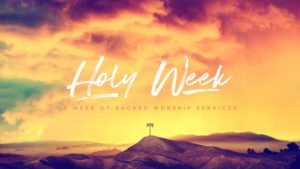 We invite you to join us for a week of sacred services as we journey with Jesus from his entry into Jerusalem. to the Last Supper with his disciples, to his ultimate sacrifice on the cross for our sins, to the glory of his rising from the dead on Easter Sunday.
This is one of the most important weeks in the life of any Christ follower and our prayer is that you will experience his passion, love, grace and power with us this year at Faith Church.
Palm / Passion Sunday – March 25 at 10:30 a.m.

Maundy Thursday Service with Communion – March 29 at 7:30 p.m.

Good Friday Soup Luncheon and Service – March 30 at 12:00 noon.

Easter Sunday Prayer Meeting on the Route 6 property – April 1 at 9:00 a.m.

Easter Worship Celebration at Faith Church – April 1 at 10:30 a.m.